At the beginning of September, Jessica of the incredibly awesome
Running With Scissors
offered a free pattern up for a handful of people to test. I got lucky and was one of the first ones to email her, so I was chosen to sew it up. And she sent me the coolest pattern ever.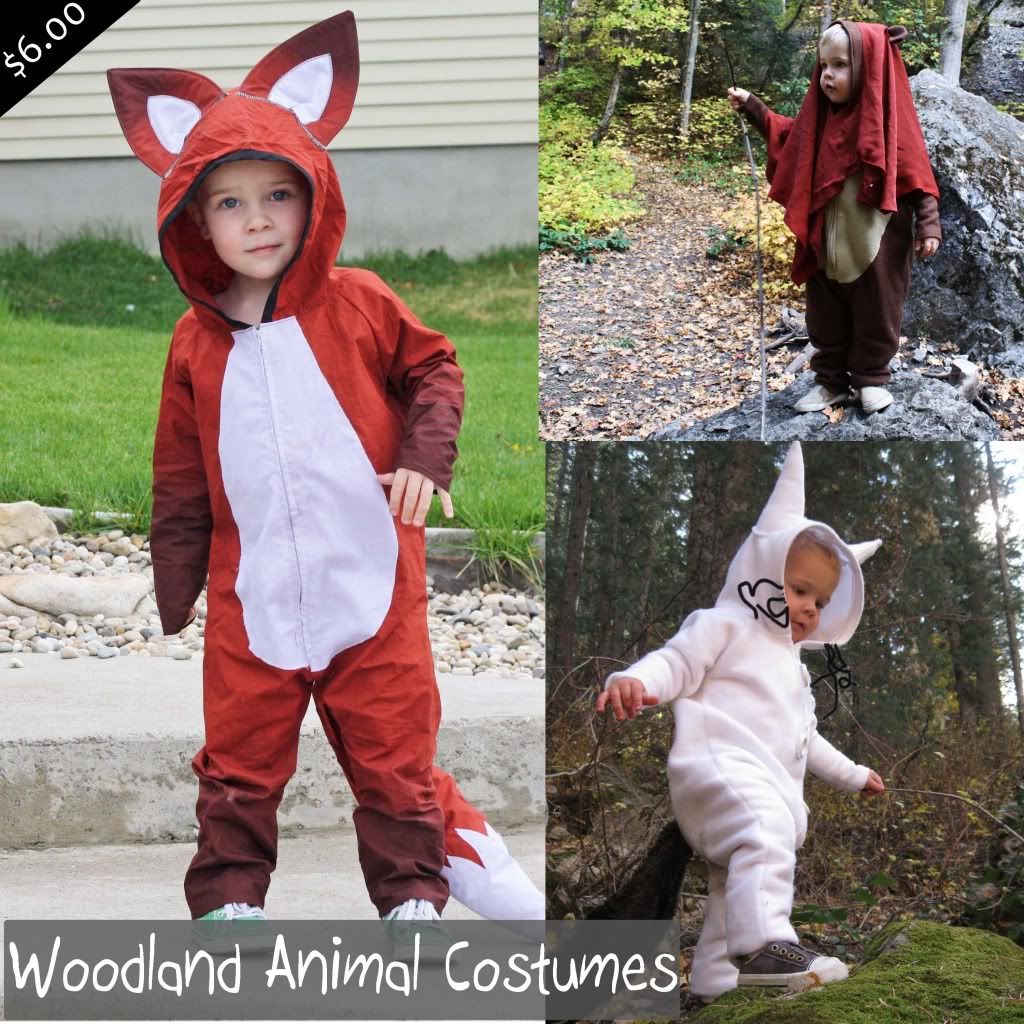 As a tester, I printed it out asap and started examining it. At the time, I was fully a novice at sewing. I had owned my machine for about three weeks and had never actually sewn from a pattern before. So far all I had under my belt was two pairs of pj pants for my son, with patterns drawn from existing pants that fit him. I was completely and utterly confused for some time after printing and piecing together the pattern, and I fully admit...I cowered and ignored it for a lot longer than I should have. I was petrified that I wouldn't be able to do it. Also around this time, I was let go from my job, so if Micah was going to get a costume at all, it would have to be this one.
Finally in the second week of October I decided I need to put on my big-girl panties and start it. On a random trip to the dollar store I found an off-white blanket made of super soft, fluffy material for $8. It was far cheaper than any fur material at the fabric shop, so I bought it, went home, and started working. And working. And working. Even though I made good progress and the pattern was easy to follow (Jessica is awesome!), I was super slow. And only partially because of my lack of knowledge. The material was a NIGHTMARE. It fluffed everywhere, it completely covered my sewing foot as I went along, it got tangled up in the foot, and I couldn't see my stitches at all. The material I bought to make a hood - because this was supposed to be an ewok - somehow ended up being so narrow I would have to sew two pieces together to make it, and in my frustration, I sacked that idea. I also realized when I was about halfway through that I had forgotten to buy a zipper, so I dug out an old footie pajama from Micah's newborn box and made it work. It was blue. Sigh.
But finally, through trial and error and lots of irritation, I ended up with this.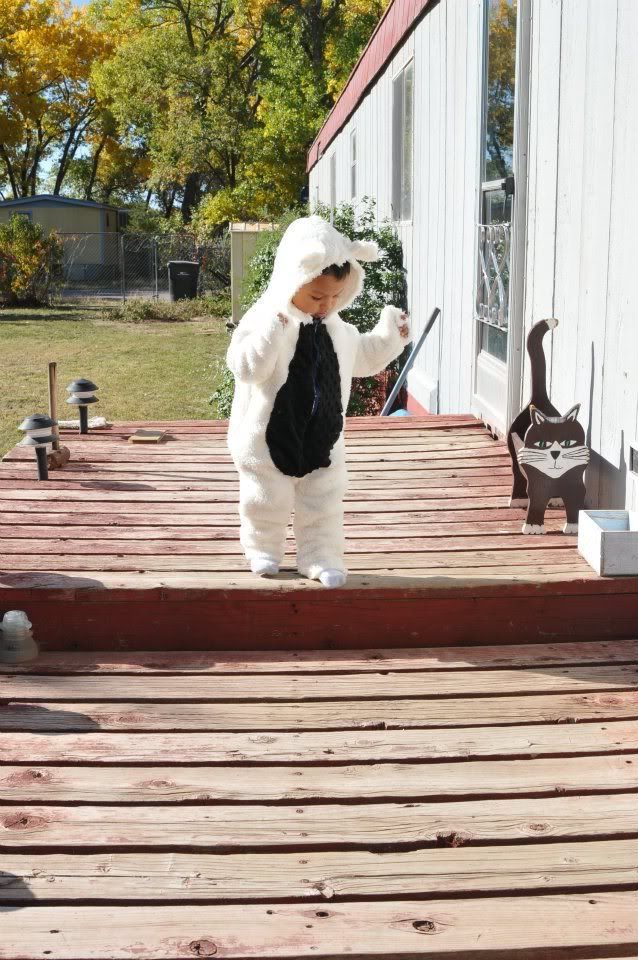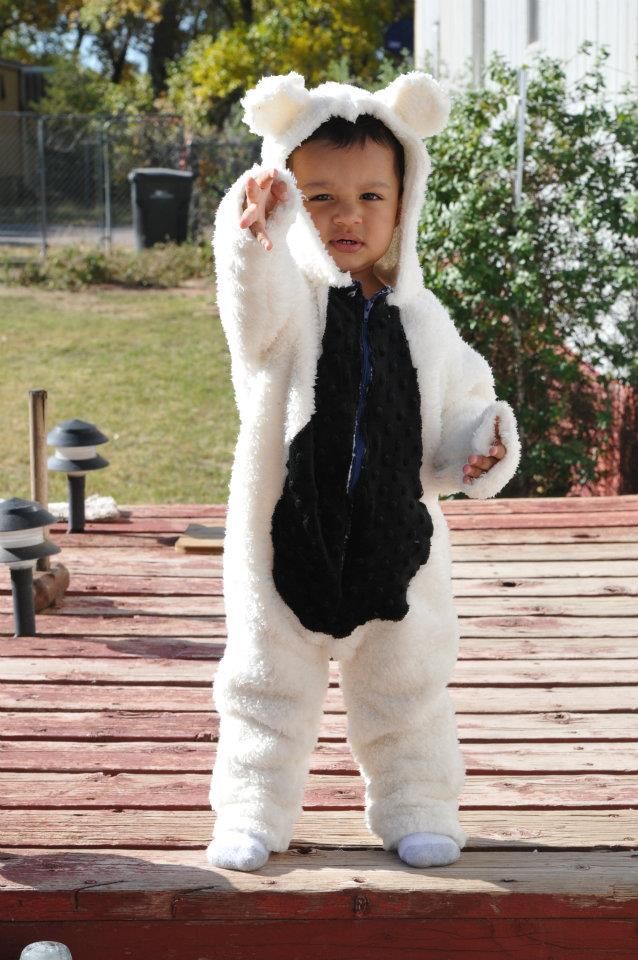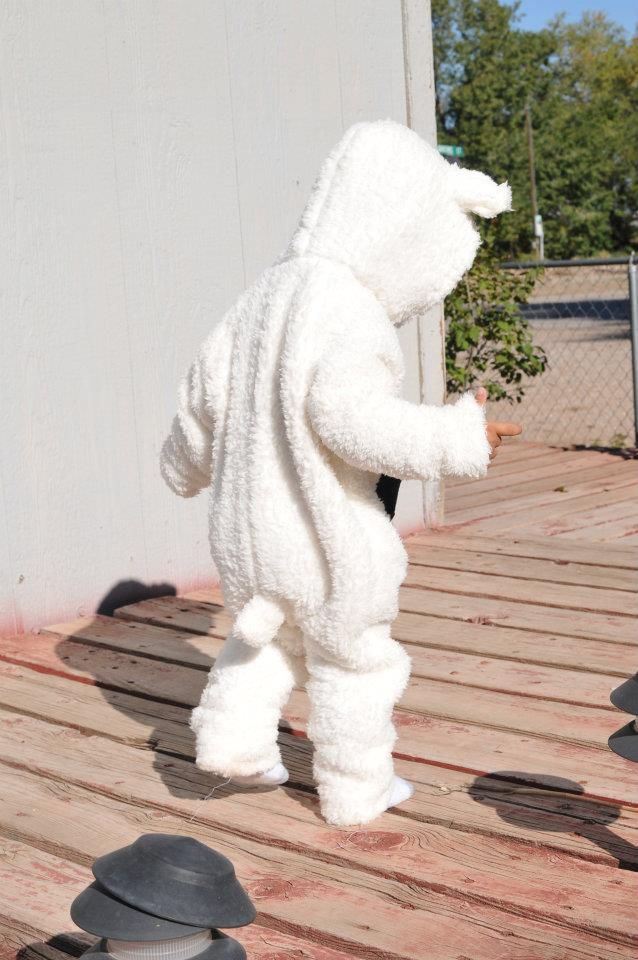 Micah loved it, and I could not have been happier.