I haven't posted here since my 4th of July post. That's just sad, especially since in that time I have finished two really great projects. Time to get off my butt - or as my Micah calls it, my nalgas - and get started.
Awhile back, I picked up some really cute robot print fabric with the intention of making Micah some pants or shorts out of it. It was super cute, and really cheap at only $2 a yard. Following a tutorial off my beloved
MADE
, I started on this little project.
I hit a snag when I thought I completed messed up my homemade pattern when I went to sew the inner legs together and nothing matched up very well. I had over an inch of overhang on the back piece so the hems didn't match. Thankfully I showed it to my mom, she said that was common and to just sew it as close as I could then trim the unmatched edges. And it worked!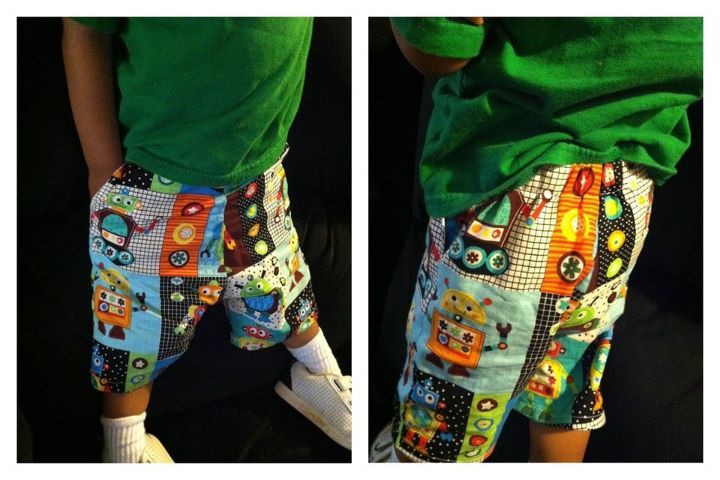 Micah absolutely loved them. His hand just fits in the pocket, though I opted out of the rear pockets/flaps. The only thing I would change is that next time I would try something different with the pockets so that I wouldn't lose two inches of room inside the pocket when I folded over the top to sew in the elastic. Otherwise, they are perfect. Exactly the length I like on him, which is just below the knee. The tutorial is really great, it only took me about two hours total (minus my days of confusion when I reached the final bit before my mom stepped in).
<a target="_blank" href="http://1epicmom.com"><img alt="Weekend Blog Hop" src="http://i1099.photobucket.com/albums/g385/EpicMom/Bloghoptillyoudrop-1.jpg" /></a>