I'm sure you've seen those Sharpie mugs all over Pinterest. In case you haven't, here is the one that I liked the best.
I kept looking at them, wondering if I should make one for my parents for Christmas. Half of the pins on Pinterest have comments on them about how the Sharpie didn't work though - they would wash them, and the Sharpie would just wipe off. The heat of the oven was often pointed to as a culprit, but also the quality of your mug. Cheap mugs worked better because the glaze was more permeable. Or maybe you should use a certain type of Sharpie, the kind meant for porcelain. Or maybe you should glaze them after, just on the part that's painted so they are still safe to drink from. So many opinions!
So instead of trying the Sharpie at all, I went to Michael's and bought a six pack of paint pens, the kind you shake up like spray paint and then press the tip to get the paint flowing. Then I bought five mugs, also at Michael's, that were meant to be painted and even came with a tiny brush and a few paint pots. At $1.99 for each mug and $5.99 for the pens, a pack of stickers in letter shapes, and a 40% off coupon at the register, I spent less than $16 on the whole lot. Not bad for knocking out five Christmas gifts at once! And they hold up in the wash and the microwave, too.
And they came together super fast. I stuck on a name, tapped around the letters with a different color paint pen, and in less than five minutes they were dry and completed. The stickers I chose were not the best choice - they were 3D, which I thought would make them easier to trace around, but it also kept them from laying flat enough so the paint bled underneath. I just went in with a white paint pen (thankfully already in the pack) and colored over the bleeds a bit. It didn't make the edges sharp and crisp like I wanted, but it did give them a pretty marbled look I had hard time capturing on camera. And best of all? My recipients loved them. We had an early Christmas with my moms family since they were in town from Kansas and wouldn't be back for awhile.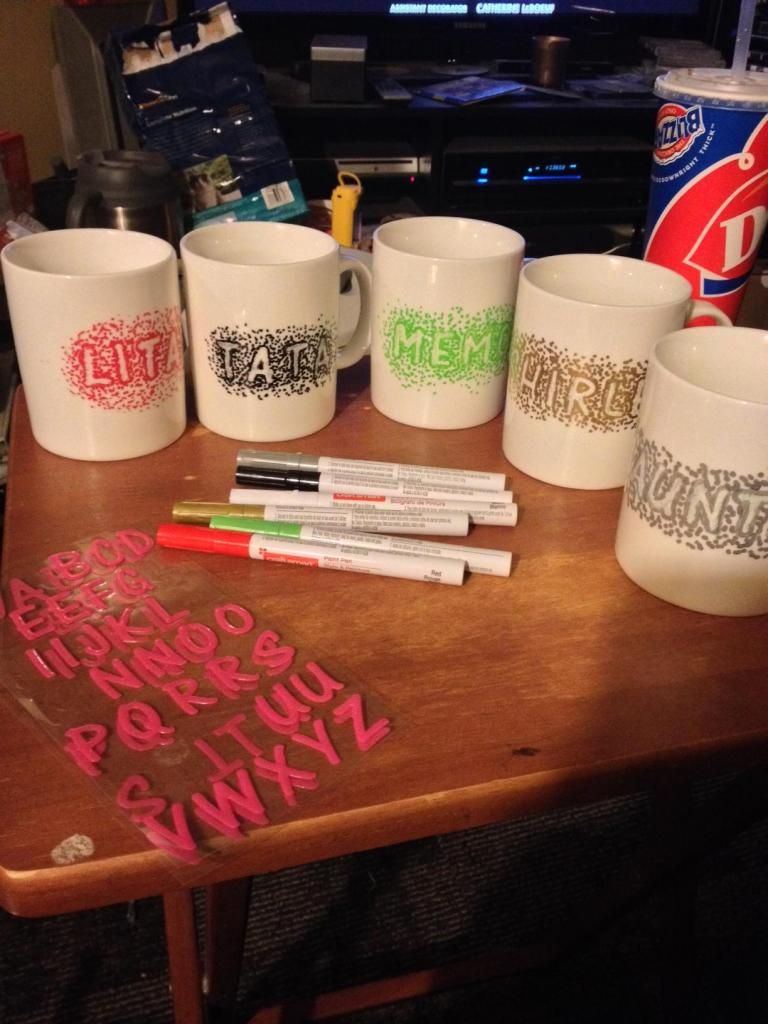 Have you ever tried this particular project? How did it go?