Halloween this year was both awesome and messy...mostly because I am incapable of starting a project far enough in advance that I have proper time to finish it sooner than the day of the event. Arg.
So originally, I wanted all three of us to dress as characters from Assassin's Creed - Micah and Antonio could be different versions of the main character, and I could be the female "love interest" from one of the more recent games. I have never played any version of these, I just knew of the characters and how awesome their get-ups were. I had a pattern already that would work well for mine and I could wing it for the boys. I got Micah's finished and was really proud of it. He wore it to visit my coworkers and the high school my mom works at, and everyone thought he was a pirate instead. Since he has no idea what Assassin's Creed is, that's ok. I was still pleased with the outcome.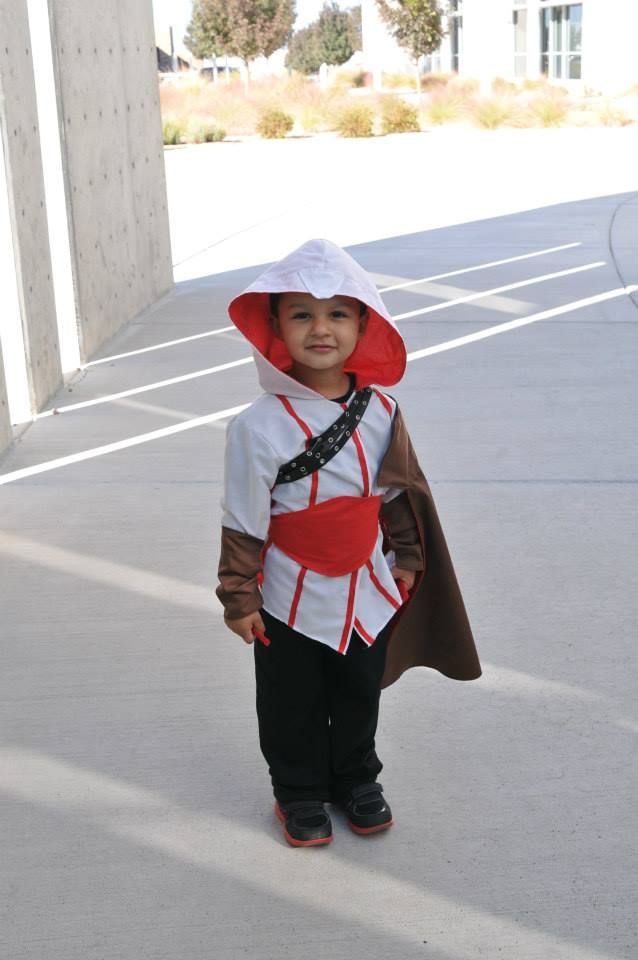 I think it really came together!
My husband and I were invited to a Halloween party of epic proportions. He has a friend from high school that is known for his parties because he spares no expense and goes all out. He works in the film industry and so he hadn't had a Halloween gathering since I met my husband eight years ago, so I was really looking forward to my first one. It was worth the time and effort we put into our costumes, too.
And then my husband saw an episode of Mythbusters where they talk zombies and Jamie dresses in this rather impressive zombie-hunter outfit. And so our costumes changed, even though I had spent something like 24 hours on my dress. A little hacking to my hem and forgoing the pretty finished edges and mine worked out.
Then we added details. I found a tutorial to make a duct tape top hat that looked like leather, and using a cheap $1 base hat, I cranked one out for both of us. I spray painted a pair of hiking boots I scored at Savers for $5 to look metallic, then we both took a pair of welding goggles and added a few details and painted them to look brown and black. My husband tore up an old leather jacket that no longer fit him and he hadn't been able to pawn off on anybody via Craigslist. And instant steampunk? Maybe. I have no idea what we are, but we got tons of compliments, so I guess we look put-together!
What did you do for Halloween? Did you dress up?