My fascination (and dedication) to Instgram is almost as obsessive as my fascination with Pinterest. I have the app on my phone and use it every day, usually multiple times, and I am constantly checking it to see if anyone has Liked my newest photo. My recent realization that hashtags work miracles to get views to your photos has made me ridiculously excited. Just this morning I did my daily prompt from
Clickin' Moms
, which was supposed to be a shot of my favorite camera. I took a psuedo-artsy shot of my Nikon D300 and added a couple hashtags...the most memorable being #bigpimpin. I laughed my head off when a couple hours later I realized that single tag got me 19 likes, the most I've had as of yet.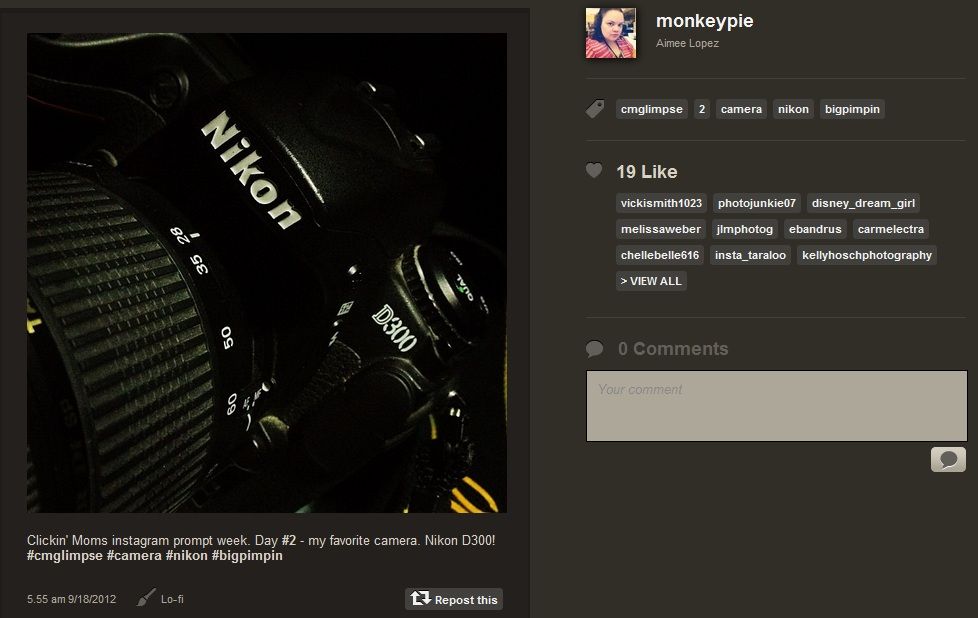 Seriously hilarious. Also a little sad, that the most likes I've gotten yet was 19. Someday I will be a Cool Kid.
Have you found any of the other cool sites that use Instagram to do fun stuff? I know we have all seen
Stickygram
, with its epic magnets. But what else can you do?
As far as viewers go, there are many. But I think y favorite, mostly because of it's clean design and easy layout, is
Statigram
. I used it to capture the screenshot I posted above of my camera photo. I like that it goes with black and grey for the backgrounds, rather than the brutal white I've found on other sites. Easier on my old lady *cough* eyes.
Instagrid
is another cool toy. I can see myself using this for a Friday photo dump, something I'v been considering doing. I especially like that visitors can see your photos without having Instagram as well. My parents are not tech-savvy, and they would love to be able to see all these shots of Micah without logging into Facebook or getting a smart phone.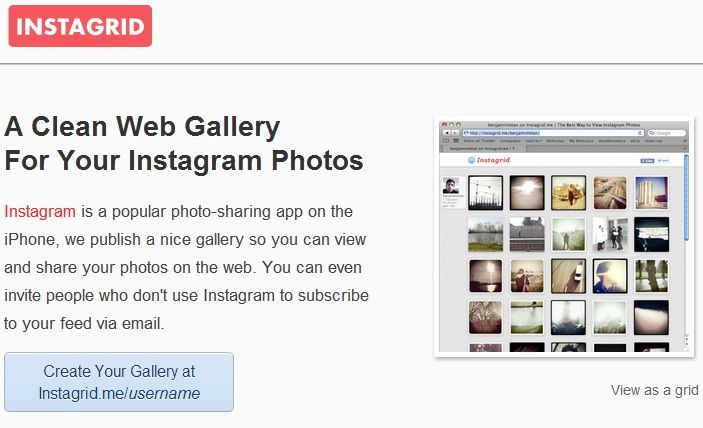 Instaprint
looks like a really fun toy for a party! And it makes me want to HAVE a party just so I can try it out. How cool would it be to just print away photos without worrying about picking them up after the party is over? My son would go nuts for this...maybe his birthday next year will have this.
Instamaker
is absolutely on my list for Christmas gift this year. The Zazzle of the Instagram world, you can seriously make SO much fun stuff. Go see!
And just for fun, I'm not even going to tell you what this one does...just go
smile until your face hurts
.